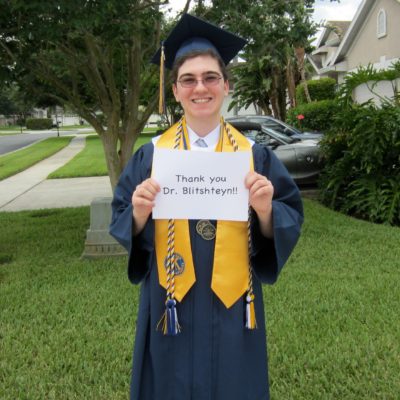 "After 10 years of suffering with POTS and losing the doctor who was treating me almost 3 years ago, I came across Dr. Blitshteyn. Clearly, she is incredibly knowledgeable about Dysautonomia and POTS. Without the understanding of a doctor who truly understands these conditions people will suffer in ways that few will understand. After having spoken with Dr. Blitshteyn, my journey of the last 3 years has landed in the right place. If you are suffering from any kind of autonomic dysfunction don't continue to suffer with doctors who have no idea and only treat symptoms rather than fully diagnosing the problem. Call Dr. Blitshteyn and look for a hope at the end of a dark tunnel. She gets it. Don't suffer. Reach out and get help from her." – Senator Richard LaRossa, New Jersey
"Dr. Blitshteyn, I can't thank you enough for all you have done so far for me, it has taken me 4 years to get to this point, and countless dr appointments with no answers, or a partial answer that led me on another search. I know I will never be well, or to the point of who I use to be, but to at least know what I have and know the feelings I have are real and I am not crazy are a relief in itself. You are a true blessing and I am so thankful for what you have done for me so far… Thanks for the help, and looking forward to you as my Dr." – anonymous
"After a very brief wait, I finally had my much-anticipated telephone consultation with Dr. Svetlana Blitshteyn. First, I have to begin by saying she was such a kind, compassionate, understanding, and engaging doctor. I had read glowing reviews about her on the web site DINET. That lead me to watch her in the Youtube video called Changed: Living with Postural Orthostatic Tachycardia Syndrome . After watching, I purchased the book called POTS – Together We Stand: Riding the Waves of Dysautonomia, which she co-authored. I have to admit, after watching the video and reading her book, I kind of felt like I was talking to a rock star! I was pretty nervous when I called for my phone consultation, but she was so down-to-earth, she put me right at ease. She stated that based on all of the clinical evidence, I have POTS and neurocardiogenic syncope. And this evening, I received a full report and treatment plan via e-mail to share with my regular doctor (and send to that nasty cardiologist!) I can't believe it….less than eight hours after I saw her, she produces the information. That's pretty darn incredible, if you ask me." – Christine S
"Yesterday, my son graduated from high school. Our entire family knows that this would not have happened without Dr. Blitshteyn. There are no words to express how appreciative we are for her expertise, intelligence, kindness, and support. She got my son's POTS symptoms under control and he will start college in the fall. She is a blessing to all of her patients!" – Robin T
"Best POTS specialist I've been able to see and speak with. Dr. Svetlana Blitshtyn has helped me for over 2 years and has knowledge of all central nervous system diseases as well as neurological expertise and has many contacts in NYC with top autonomic testing facilities. I have the utmost respect for her and her staff. Compassionate and knowledgeable. Thank you so much again for all that you have done for me medically and psychologically to deal with this debilitating disease." – Jill F
"I had a phone consultation with Dr. Blitshteyn today. She was very thorough and focused while reviewing and questioning me in depth about my medical history and symptoms. She answered so many of my questions regarding dysautonomia. She also offered additional treatments to help improve the quality of my life. She was helpful, kind and very knowledgeable. I would highly recommend her……..what a breath of fresh air after searching for 8+ – years for a doctor that is knowledgeable about my condition. It feels so good to know that she is there and available to help." – Anonymous
"I have had a long complicated medial past. Been told a strong woman for all I've gone through…… Not one Doctor knew what to do. I ended up going to the ER several times via ambulance so try could see what was happening to me. Sweating that drenched my clothes, freezing, shaking, goosebumps, chills,Pain ,plus more then I would pass out for hours. After many attempts to see a dysautonomia specialist with negative results due to my complex MCTD,Lupus, Autoimmune Disease, I remembered the movie "Changes" and Dr. Blitshteyn. My husband suggested I try to call…..
After calling her office , I received a phone call back from this AMAZING Dr. And explained to me her phone consults for patients long distance. I was ready- due to having these episodes daily and my life went from disabled but still kicking at most to bed bound. Dr. B was so kind, concerned, went through every little thing to help figure out how to help me, and within one month after her recommendations I can say now my episodes have decreased, and I feel overall so much better than I did just a few months ago. My other Doctors appreciate her expertise and knowledge with Dysautonomia symptoms. After our second appointment, she reassured me I was doing better and was very pleased. I may not be where I was a year ago but not completely bed bound and having a bit of a life again. I have hope. Something I started to lose with what dysautonomia symptoms can do. I would HIGHLY recommend Dr. B
If you may be in doubt about how can a simple phone consult really work…… THEY DO!
I'm still looking forward to each month getting better than the next.
" –Kristin D
"Just had my doctor appointment with Dr. B from the Dysautonomia Clinic. This Doctor is the best Doctor around. She has helped me so much from where I was to where I am now. A doctor that is so organized and truly cares for you're well being. Never gives up on you. If you have ever thought….. Phone consults? How does that really work? I am the LIVING proof. It does really work. Dr. B, you are the best!" – Anonymous
"Dr Blitshteyn saved my life by pointing me in this direction. She is one of few doctors who realize how much the playing field of what we thought we knew about Lyme is changing. Please please please, if you have been bit by a tick and continue to progress with neurological and joint symptoms despite treatment for POTS, consider LYME, especially if everything else has been ruled out." – Alicia H
"There are no words that could possibly thank you enough for giving me my life back. I still have to struggle a bit every day, but I can function. If I hadn't found you, and if you hadn't chosen to help desperate, misunderstood people like me, I would be stuck sitting in a chair with extraordinary pain and broken parts, missing my whole life along with my kids. I'm a totally, high functioning (if I balance everything perfectly) mother and person now." – Susan M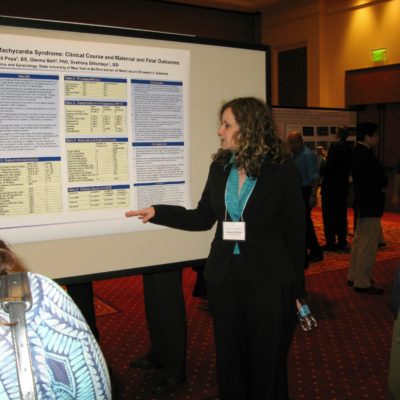 "I wanted to share some great news with you. A few weeks ago, our son was accepted to the university of his choice for the Fall of 2015. This has been his dream for many years. This never would have happened without Dr Blitshteyn – her medical knowledge and expertise, her kindness, and constant support." – RT
"I wanted to take the time to thank Dr. Blitshteyn for helping my daughter so drastically. My daughter became ill back in June. We have seen countless specialists. Most said they couldn't help and referred us on to other specialists. This went on until about two and a half weeks ago. We did a phone consult with Dr. Blitshteyn and she recommended adding another medication. To my surprise my daughter's symptoms pretty much disappeared with in a few days with the expectation of a few minor things. But for the most part all of her major debilitating symptoms have been put to rest. I can't thank Dr. B enough! Her expertise has helped us get back on the road to our normal lives. I highly recommend her to anyone suffering from P.O.T.S. and Dysautonomia." – Amanda S
"Amazing Dr. I took a plane to see her and have had several phone consults with her, and all that she had thought I had medically has thus far proven correct. I would recommend her to anybody suffering with autonomic dysfunction." – Jill Z
"After only 3 phone consultations, my 15 year old son, who has POTS and had been suffering with severe, debilitating migraines almost daily for a year and was homebound, is back at school part-time and is slowly getting his life back. We know this is just the beginning of his recovery, but our family no longer feels out of control and fearful. I strongly urge anyone suffering with POTS or who has a child with POTS to contact her and let her share her wisdom with you and your physicians. She will help you put together a treatment plan that will lead you on the road to recovery. Dr. Blitshteyn is a brilliant, kind, honest, supportive, outstanding physician, and there are no words to express how thankful we are to her. We are so blessed to know her!" – Anonymous
"She's the best, I'm back in college because of her help and patience." – Jamie W
"I highly recommend a phone consult with Dr. Blitshteyn at Dysautonomia Clinic. She is GREAT – so smart, nice, direct, helpful, compassionate, sharp. She *gets* it. Even though I already saw some other top specialists, it was super worthwhile to talk to her also. She zeroed in on my issues very quickly, understood I was already doing most of the normal suggested treatment (e.g. salt, stockings and abdominal binder), and gave me a great game plan to pursue. Yay for nice doctors and hope for improvement." – Jill B
"She got rid of my headaches after 1 conversation! The 3 other neurologists didn't get close! So thankful for her.!" – Tammi C
"I just wanted to drop you an email thanking you for your phone consult with me. I didn't know how I would continue to push through this. I wanted to give up, but not anymore. I'm even hoping to return to the Physician Assistant program this fall. I can't thank you enough for being educated about the current situation. You gave me the strength to finally seek treatment and in turn pretty much saved my life." – AH
"Thanks for helping me today and always. Who knows, I may not be alive if you hadn't prescribed Mestinon. That's not a good thought. I would still be in severe pain and tremoring without Neurontin, and the quality of my life has gone up tremendously from taking the hydrocortisone. Thank you for doing what you do. It seems to be a gift you have." – Sue M
"The phone consultations are life-saving." – Mary W
"I have gotten more help from one-hour phone consult with Dr. Blitshteyn than from staying an entire week at Mayo Clinic" – Anonymous
"She is excellent. I have been amazed at how helpful my phone consults have been." – Laura B
"Can't say it enough Dr. B and helping with POTS goes hand in hand! She's top notch with her phone consults and is thorough and educated on all aspects of Dysautonomia." – Anonymous
"We so appreciate all you've done for our daughter these past few years. You have been a lifeline to us both!" – WW
"I was diagnosed with Dysautonomia in July of this year. Although I was relieved that after going to 9 doctors the last one FINALLY find out what was wrong with me and why I was feeling so horrible. Even thou he knew I had the disorder he could not help me, he was an Endocrinologist but he did not specialize in Dysautonomia. My sister began combing the Internet and found my angel, Dr. Blitshteyn! When I had my first phone consultation I knew I had found the right doctor. My condition and symptoms were so debilitating that I was homebound. My sister had to come in from out of state to care for me. It is now December and I feel better, stronger and hopeful, something I thought I would never feel again. Dr. Blitshteyn has worked with my doctor here in Florida and had figured out the correct medications, she has guided me in the right direction and has been there every step of the way. Don't get me wrong I still have my bad days and meds are still being adjusted, I still have some more tests I have to take, but I have not felt this good in a year. During the holidays it can be a difficult time for many reasons, especially when we have this disorder, but I wanted to send some encouragement that it can get better, I am a testimony that it can! Thank you Dr. Blitshteyn for being the caring doctor that you are.!" – Maryanne
"We are so excited to let you know that my daughter is walking again! It seems the medication changes you made have really helped. Thank you again for all your help. I don't know where we would be at this point without you!" – Jennifer G
"After 3 years of seeking care and visiting 20 doctors who could not help us, we are so happy to find Dr. Blitshteyn. After only 2 phone consults and a few medication changes, my daughter is now in school every day." – AD
"Thank you so much for your knowledgeable opinion…this consult has been incredibly informing for my local physicians." – Alyssa M
"She's helped me more in two months than any doctor has helped me in a decade." – RV
"We cannot thank Dr. Blitshteyn enough for her guidance and REAL help for my daughter, who has suffered a Gardasil injury. Dr. B takes the time to truly listen to our children who have been so neglected in the medical system since Gardasil. After one consult and a follow-up with our local doctor, my daughter went from having episodes of painful pre-syncope 4-5 times/day and screaming in pain on the couch to being able to stand for several hours, working at a craft fair for our little home-based business! There IS hope, and Dr. B is a great resource for those who are struggling like we have been for the past two, long years. There is no miracle cure, but today we have hope that she can and will have a productive and healthy life again. Thank you, Dr. B!" – Victoria Carey
"I found Dr Svetlana Blitshteyn from NY and with two phone consults she was able to diagnose that I have Sjogren's Syndrome, and that my dysautonomia is secondary to the Sjogren's Syndrome. I was able to find a Physician that was able to put a name to why I was having all these symptoms. That it was not all in my head or anxiety, and it gives me hope knowing that it could be treated and could be controlled. I wanted to thank Dr. Blitshteyn for making the diagnosis of Sjogren's Syndrome with my history and the symptoms that I presented. I've been on a medication for Sjogren's for a few months now and I can tell the difference in how I feel." – Linda Hawkins
"I believe in miracles and God definitely worked one in my life with Dr. Blistheyn and the rest of you guys staff. I was so ready to give up but she's pushing me not to quit. I don't know how to ever repay her. God bless all of you!" – Tanya M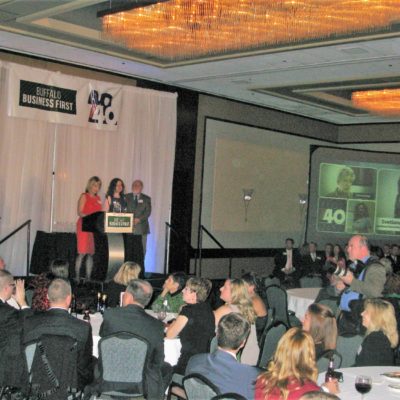 "I have to say – Dr. Blitshteyn has been a real Godsend to me. I'm feeling better than I have in years after just several days of treatment. Please keep doing what you're doing. If anyone is suffering out there, this is an amazing resource." – Mary W

"I cannot thank you enough for the compassion and the help all throughout this ordeal. It has meant the world to me and my family! It is great to be back at work and to be a meaningful part of the lives of my children – I can play with them out in the yard and attend their games/concerts." -DF
"For 15 years, I have been suffering with POTS and other issues and going from doctor to doctor without help. Just in the short 4 months of working with Dr. Blitshteyn, my life has improved dramatically and I am now at least 40% better than before becoming our patient." – Courtney H
"Just want to share some good news! Dr Blitshteyn is treating my daughter Katie. She has been on midodrine and has had no Pots symptoms for 3 weeks! She was dizzy and tired every day, passing out. Now she feels "like normal!" I love seeing her get her life back! Thank you so much Dr Blitsheyten!" – Anne K
"Thank you from the bottom of my heart. You were willing to listen to me and forego the conversion disorder diagnosis first from my GI doctor who thought my stomach problems and gastroparesis were psychosomatic, then from my PCP (not my current PA, I left this PCP after our first phone consult) who thought my exceedingly high heart rate was anxiety, and then from the hospital that thought I was too young to have TIAs. You reaffirmed my sanity when I truly began to believe that perhaps my subconscious was creating all of these physical symptoms unbeknownst to my conscious thought.
And for this, I can't possibly thank you enough. THANK YOU SO MUCH for believing that my issues were real and helping me through all of this. You played a major role in saving my life and my dad's life who has a similar illness
" – BV
"I just wanted to take a moment today to say a huge "thank you" for saving my daughter's life. That is not hyperbole; your care literally has given her back her life. You diagnosed her with Dysautonomia about a year ago and because of your recommendations we were able to access care by a local electrophysiologist and an immunologist. Before treatment for Dysautonomia & MCAD, she was in constant pain, having pre-syncope & anoxic seizures several times a day for years. She was constantly dizzy, had chest pain, and was always weak & exhausted. She was on homebound from school for three years. She could not leave the house without a wheelchair & used a cane indoors. Because of proper diagnosis and treatment, my daughter is back to school & is finishing her senior year of high school AT SCHOOL! Additionally, she has friends again, has obtained her driver's permit, and is actively engaged in life. Her brain fog is gone and she's so grateful to be active in life again. It brings a tear to my eye to even write this! She was discharged from PT this week after meeting every goal. No more canes or wheelchairs! I cannot thank you enough for your help. You were the only one who truly listened to us and we were at the end of our rope when we found you. I'm still active on Facebook groups and recommend you to other moms all the time. You are a godsend, and I know that you have a special place in heaven for healing our children!" – VC
"She is an absolute genius! No doctor in my hometown could figure out what was wrong with me. She knew in about 10 minutes of us talking and I was diagnosed with 4 things. She knew it all! She is the greatest! I believe in miracles and God definitely worked one in my life with Dr. Blistheyn. I was so ready to give up but she's pushing me not to quit. I don't know how to ever repay her. God bless!" – Tanya Maples
"I had a consult with Dr. Blitshteyn. She is amazing. I have been dealing with undiagnosed POTS for over 20 years, I have seen numerous doctors and can't even imagine how much money I have spent. After consulting with Dr. Blitshteyn in three months I have been diagnosed with POTS and Sjogren's. I live in Western New York. Without the consult with Dr. Blitshteyn, none of this would have happened" – Maryanne T
"We are VERY thankful for Dr. Blitshteyn. She has no idea what she has done thus far for our family. She is managing the autonomic condition that our doctors and colleagues had no idea how to treat." – Dr. and Mrs. S.
Referring Healthcare Providers Reviews
---
Having one of the world's foremost experts in this area has been of tremendous value to our community. I would highly encourage both patients and providers alike to reach out to her! Dr. Blitshteyn has been an amazing resource for our patients in the Rochester area who struggle with dysautonomia. I have had numerous patients comment that she is one of the very few providers that demonstrates an understanding of the totality of their illness. As a colleague, she provides rapid service for these patients and sends me back a clear, concise consultation letter. She is a crucial member of the health care team.
– David R. Fries, MD, FACC
Sands Constellation Heart Institute
Rochester General Hospital
I was grateful to you for your kind advice on my patient with dysautonomia. I greatly appreciate the opportunity of benefiting from your findings and conclusion on my other patient, who really has had rather little helpful advice or treatment to date from any doctor with whom he has consulted."
– Dr. Marcel Kinsborne
Professor of Neurology and Neuroscience, Massachusetts General Hospital, Boston
Neuroscience pioneer who described the Kinsborne syndrome (opsoclonus-myoclonus)
Your notes reflect a rare degree of thoroughness and breadth of experience. Very few physicians have the confidence to manage both cardiovascular and gastrointestinal presentations of dysautonomia. I strongly recommend that the patient follows with you until she is stable enough that more responsibility could be passed on to her local primary care physician, cardiologist and gastroenterologist.
– Dr. Alan Spanos, a specialist in Ehlers-Danlos Syndrome
Chapel Hill, NC
I was very impressed with your work as a medical legal consultant. Your familiarity with the records of the petitioner, understanding of the literature and your ability to think on your feet was really impressive during your testimony. Your report on autoimmune encephalitis was well-written and well-supported.
– Dr. Lawrence Steinman
Professor Neurology, Chair of the Neuro-immunology Program
Stanford School of Medicine, CA
Thank you for your incredible expertise! I keep coming back to you with these hard cases. The families are so extremely grateful to you for your input and suggestions. Thanks for taking on these cases and for helping parents and caregivers look at other causes for their symptoms; they truly are so grateful for your expertise!
– Diane Green RN, BSN, CVRNII-BC, CNOR
Care Team Specialist, 2nd MD